Bero Coffee Singapore
Connecting you to
Coffee Origins
Who we are
Bero Coffee Singapore is focusing on providing our customers value in their coffee purchases. Based in Singapore, Bero Coffee Singapore has the local and regional skills and knowledge that gives it an edge in servicing its partners. Bero Coffee Singapore distinguishes itself in the market through quality and continuous growth. We focus on our clients' needs and continuously striving to support. We know that the client's trust and confidence are key to a successful business. Therefore, we are committed to working on developing long-term relationships with our clients by having an open communication, exchanging knowledge, providing services and understanding our clients' needs.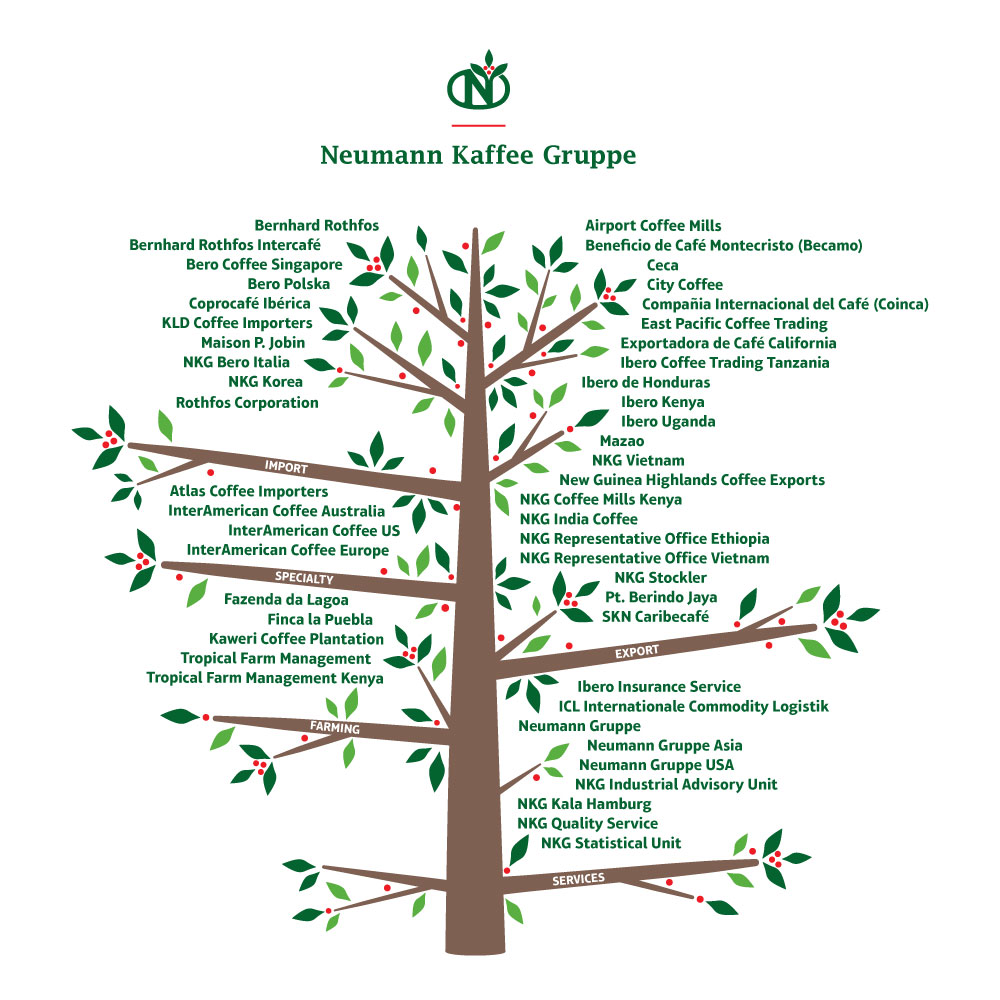 Our network
Established in 1992, Bero Coffee Singapore represents Neumann Kaffee Gruppe's operations in Southeast Asia, Far East and great China. The countries in the region are some of the fastest-growing and most dynamic coffee markets in the world. With the interests of roasters, traders and exporters in virtually every coffee-producing country, we are able to provide some of the best coffee market information and one of the broadest ranges of coffee products and services available to our partners. Asia is continually evolving and changing and as a dynamic company in a highly cost-conscious environment, we have to evolve and change as well. Consequently, our company today is very lean and cost-efficient whilst at the same time providing the services that our clients expect from us.
Bero Coffee Singapore
One stop solution for Green Coffee Services
Our Services
Bero Coffee Singapore provides services to our coffee stakeholders, from coffee sourcing to logistics and trading to quality control. Contact us if you need more information.
Quality Assurance &
Food Safety
Corporate Responsibilities
Sustainability Programmes
Asia Experts
Think global, Act local
NKG Asia Hub
NKG Asia Hub is a lean and cost-efficient business set-up currently consisting of four companies: Bero Coffee Singapore, Berindo Jaya, NKG Vietnam and NKG Korea. Each company plays a different role, together we present you with the best quality and services while providing a wide range of products. Our coffee network enables unique opportunities and connects you to worldwide coffee and the most comprehensive coffee market information.
Our Teams
Passion and experieced
Specialty Desk
We have a dedicated team of passionate individuals which oversees our clients' needs and requirements in the Specialty Coffee segment. We supply specialty grade coffees – from microlots to signature origin blends – across Asia.
Quality Desk
Our quality group puts all their passion into coffee. With a state of the art laboratory and cupping facility located within our office compounds, we offer unparalleled quality control for green coffee of all origins and types.
Finance, Risk & Admin
The finance and risk team is responsible for the security of funds, risk analysis and credit assessments. Their function is to protect the financial interests for our partners and all stakeholders involved.
Corporate Communication
With a dedicated point of contact for new partners, we are able to connect you with the relevant parties to complement your business in everything coffee related. We align the values, responsibilities, and image from the global Neumann Kaffee Gruppe (NKG) network – to have a local, and regional identity.
Logistics & Warehouse
The logistics team constantly push themselves to broaden their knowledge on the ins and outs of supply chain management. Swapping their focused origins and clients destinations from quarter to quarter, each member is equipped with technical know-hows on exports and imports of coffee. They also oversee the operations and movements of our 24/7 climate controlled warehouse.
Commercial Desk
The Commercial Team is able to offer insight, strategies and reports on the coffee market. Dedicated teams allow us to have unique view on the physical and terminal market in both Arabica and Robusta. Apart from offering our clients valuable information, Bero Coffee Singapore also acts as a hub and headquarters for our export and import operations and sourcing agency in Vietnam, Indonesia ,China and South Korea.